Rounding out a big year of new releases, this final model continues Benchmade's mission to offer the most advanced hunting knives ever made, designed to stand up to any task.
Designed for the sweet spot of usability, comfort, strength, weight, all wrapped up at an extremely approachable price point, the newly redesigned 15006 Steep Country is a versatile fixed-blade capable of performing throughout any season, on any species.
High visibility Santoprene handles make it easy to keep track of the knife when things start to get nasty, and provide ample grip in slippery conditions with a redesigned handle texture. With precision in mind, the updated blade thickness and jimping location will make the last cut feel just as effortless as the first.
Plus the CPM-S30V blade offers excellent edge retention, corrosion resistance, and sharpening ability.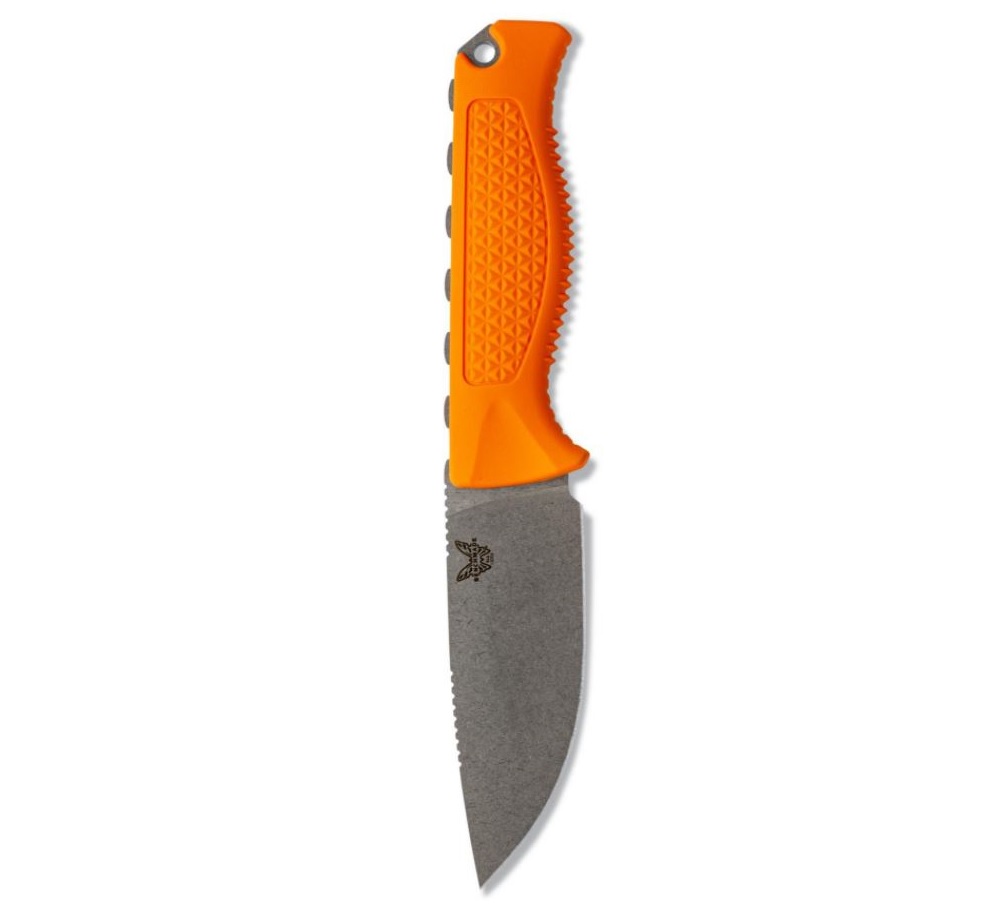 Specs:
Blade Steel – CPM-S30V (58-60 HRC)
Blade Length– 3.54" [8.99cm]
Total Length – 7.76" [19.71cm]
Sheath – Boltaron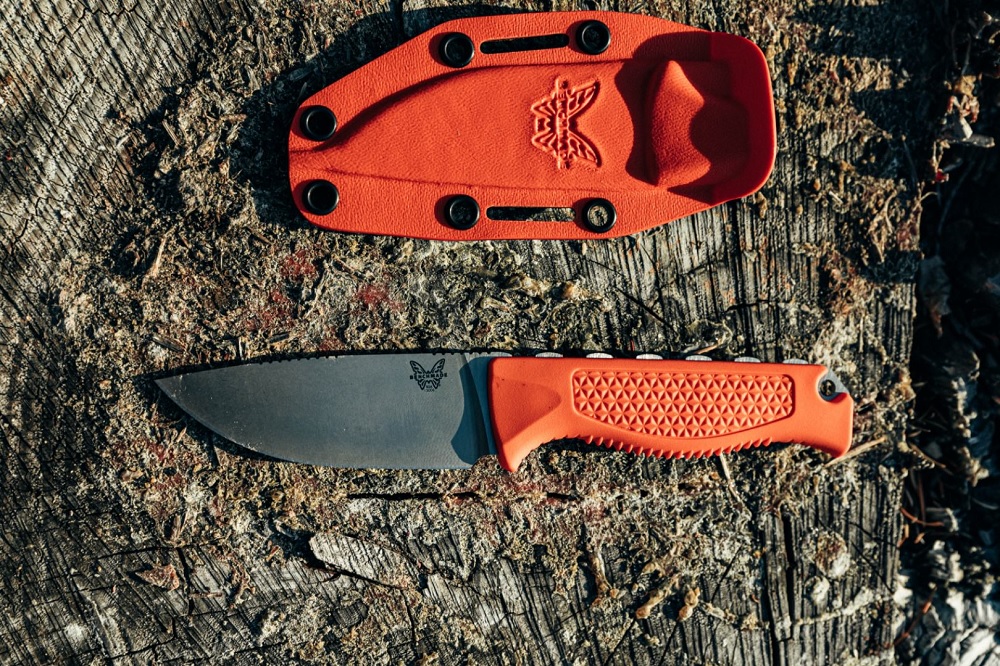 I recently took this knife on my final trip to northern Michigan for one last shot at filling my freezer with my muzzle loader. Although I did not have success on that front, (I saw exactly zero deer that weekend) all of that free-time on stand allowed me to run some "experiments" with this blade.
Except it's probably not what you would expect..
See, in an effort to find out just how effective the blaze orange handle is on this knife, I did the unthinkable – Perhaps it was the lack of deer movement that had me thinking so recklessly?
Anyway, I reached into my backpack with a bit of a sinking feeling still in my stomach after I had cooked up this crazy idea, clutched the textured Santoprene handle and pulled it from its sheath. I sat there in the driving snow (did I forget to mention it was basically a blizzard) admiring the blade, as if to say my final goodbyes, and then flung it from my 15-foot treestand. Probably not my wisest decision ever..
Call it whatever you want, though, because as I sit here and write this today, that knife sits beside me and lives to see another day!
Admittedly, it did take me a few minutes to locate after having to get down from my treestand to go find the now buried knife, but I did find it again. It was actually completely buried in snow, but the glow of the bright orange handle was still very visible even underneath a layer of snow. I'm pretty sure if I ran this same test with another knife sans the blaze orange grip, I would have been singing myself a much different tune. One that is NSFW.
Other than that, I really appreciated the ergonomically correct sheath, which allowed my to carry the blade in my pocket with very minimal interference. It grips the knife securely and doesn't let it slide around or jiggle at all, which is what you're looking for when trying to silently stalk game, but it's still very easy to remove – even with frozen fingers!
At the end of it all, the 15006 Steep Country is a fantastic do-it-all, go-to hunting knife that can serve multiple applications. There's been a big push nowadays towards the convenience of blades that can be switched out whenever needed, but I prefer a knife that is persistent, rugged and built to last a lifetime. That's Benchmade's 15006 Steep Country.