Which style of treestand are you running this year? Perhaps you're still making a game plan for this fall and weighing your options between a ladder stand, a climber, or a hang on treestand. While there's really no right or wrong choice between the three styles, there are some advantages and disadvantages to each. However, that's another article for a different day. Here, I'm simply going to show you the best hang on treestands listed on Amazon's 'Best Sellers' list.
So whether you want to pick up an extra stand before the season starts, or you're looking to upgrade your treestand setup from last year, these seven hang on treestands are a great buy for any deer hunter.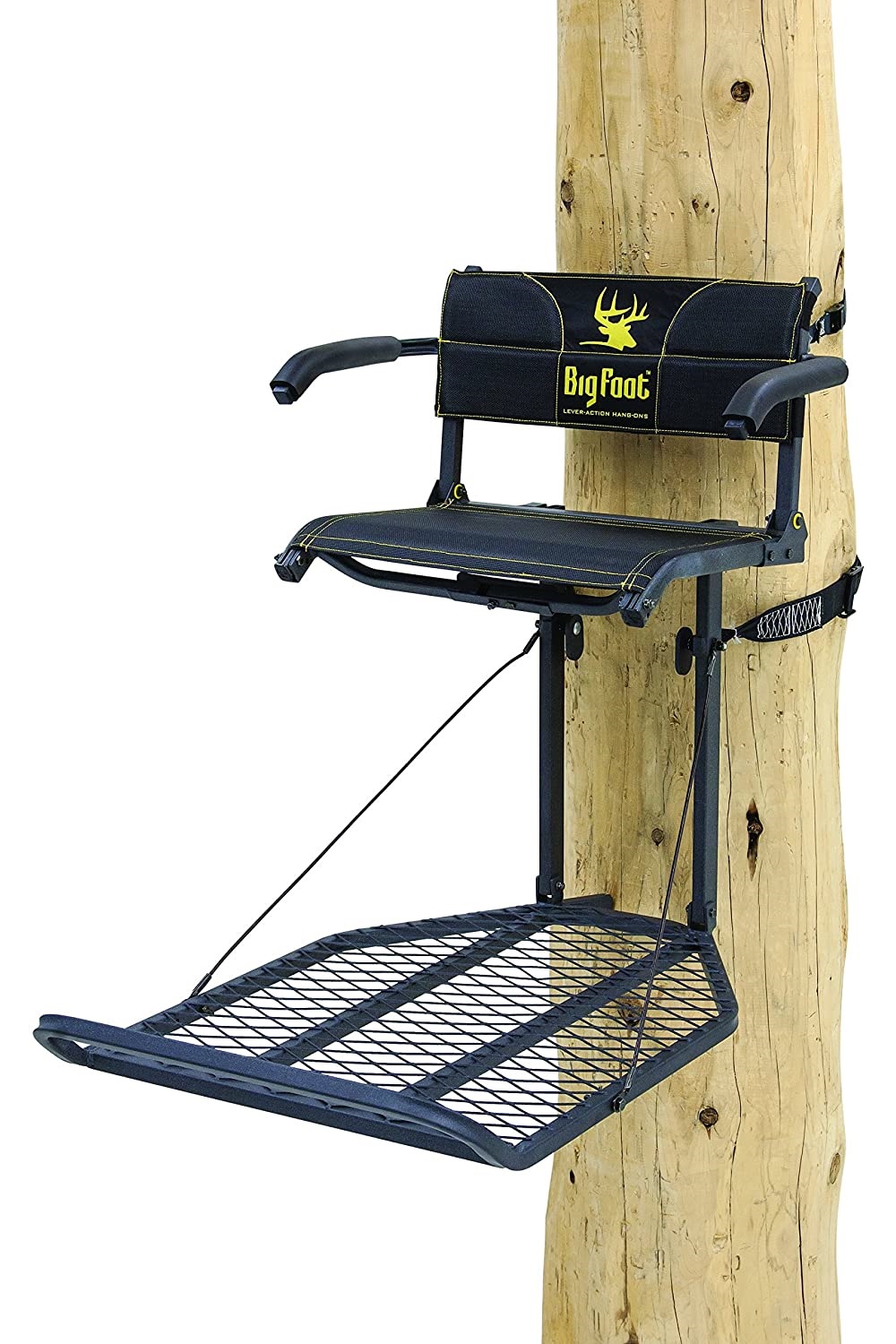 Extra large platform: at 37"x 24" the TearTuff Lounger offers an oversized platform with extra room for standing shots.
Flip-up seat and armrests: not only will you experience the all-day comfort of the TearTuff mesh seat and padded armrests, but both features also flip-up independently allowing for full use of the oversized platform when standing to shoot.
Ultra quiet attachment: with a noiseless strap attachment the TearTuff Lounger has eliminated metal on metal contact and all of the noise that goes with it.
Back and Footrests: The Tear-Tuff backrest offers additional comfort when seated while the built-in footrest provides plenty of room for leg stretching.
Lever-Action Stability: Big Foot Hang-Ons bite into the tree with an aggressive lever-action eliminating the need for a second strap. Perfect for sitting at ground level or way up high, the TearTuff XL provides unprecedented stability at any height.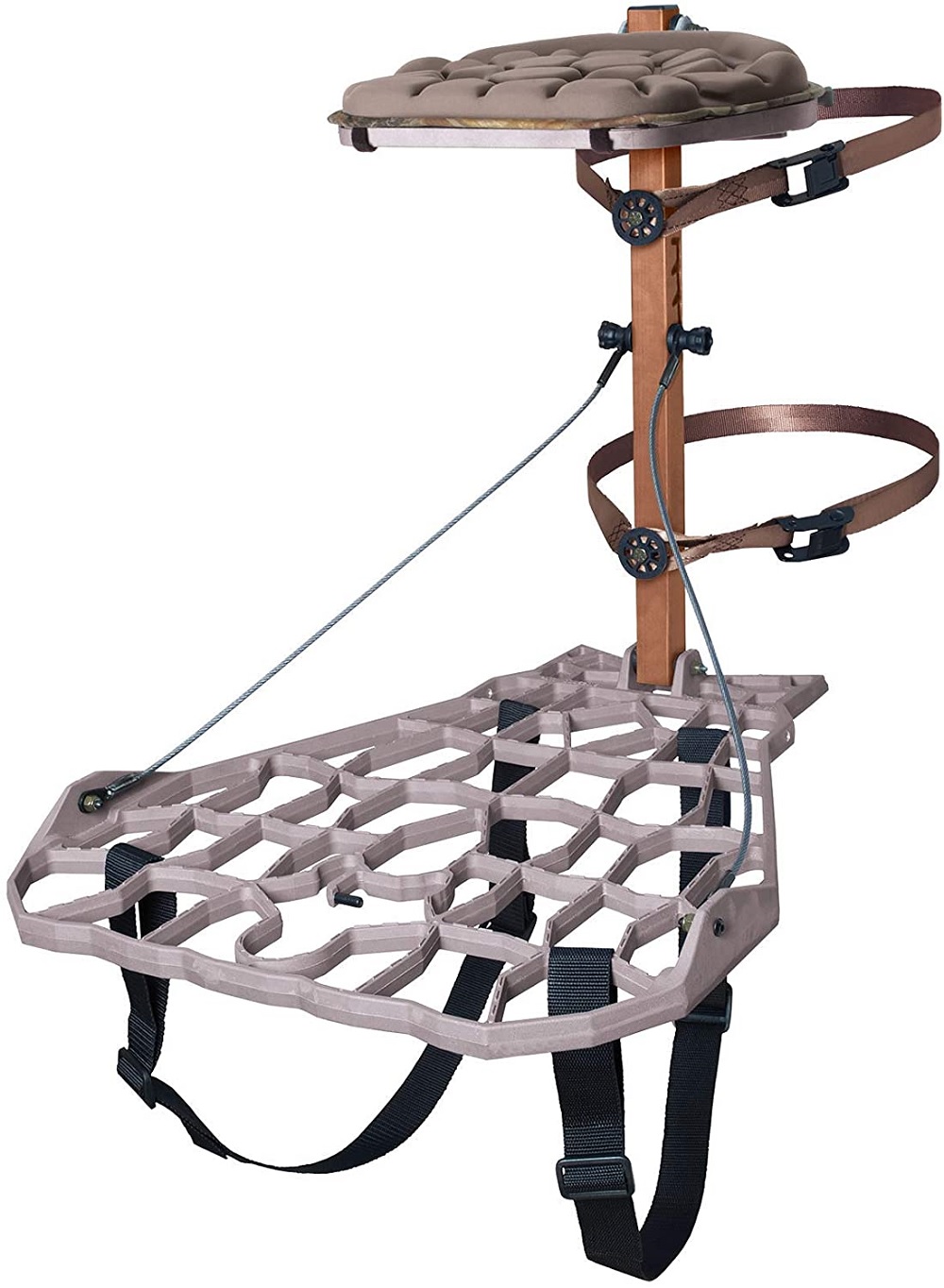 The leanest of the light weight hang on treestands in the Lone Wolf pack; Weighs in at a mere 11 pounds

The 26″ x 19.5″ platform provides plenty of room to maneuver while still able to fit in the nastiest trees you'll find

The perfect hang-on stand for mobile hunters who want the lightest setup they can get, or for hunters who need to squeeze a stand into tight places

In Cast Bow Holder accommodates most parallel limb bows. Backpack straps (optional padded straps available)

350-pound weight limit; Fits trees 4″ – 22″ in diameter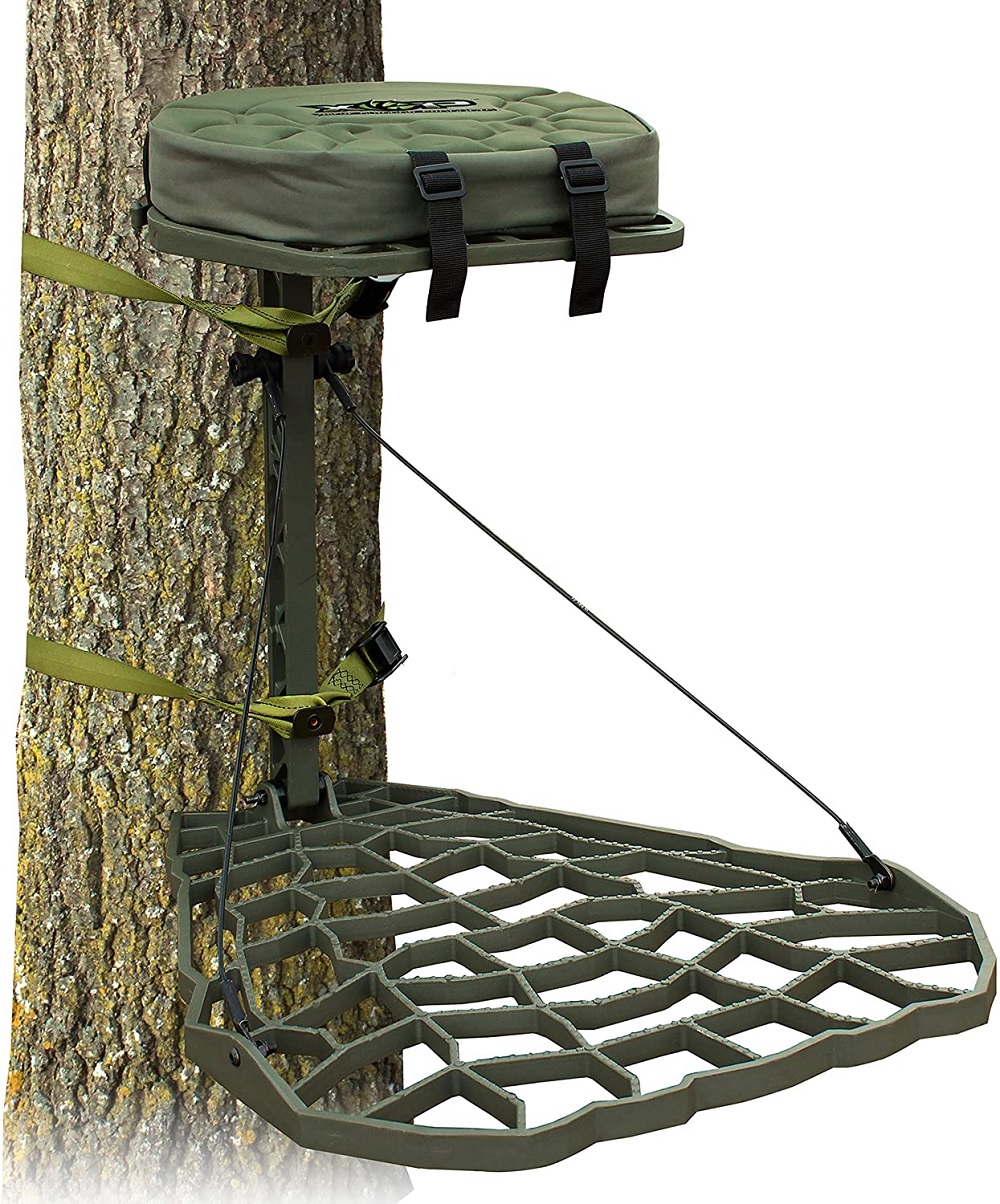 High quality cast aluminum construction – If you've had enough of the clunky steel stands, its time to make the switch. Every XOP stand is durable, solid, lightweight, easy to transport and incredibly quiet

Fully leveling seat and platform for trees leaning/ crooked trees

Heat-treated steel Fast trap buttons – everything you need is included – Comes with a safety harness, seat cushion, UV treated fastening straps, Six point bracket, backpack straps and our bonus XOP safety DVD!

Heavy duty stand with a 350 pound weight rating: platform Dimensions 27" x 19": Overall weight 12 lbs.

Tri layer foam seat provides the ultimate comfort while sitting and also when standing and Shooting. Watch our video to the left to learn more!

Includes a TMA approved 6-point Fall arrest System. Stand Weight: base = 10.1 pounds, Ready to hunt 11.3 pounds (Cam Straps, Cushion & 6-Point Bracket)

Not sure which XOP stand to get? Check out the last image to the left and our video to help you choose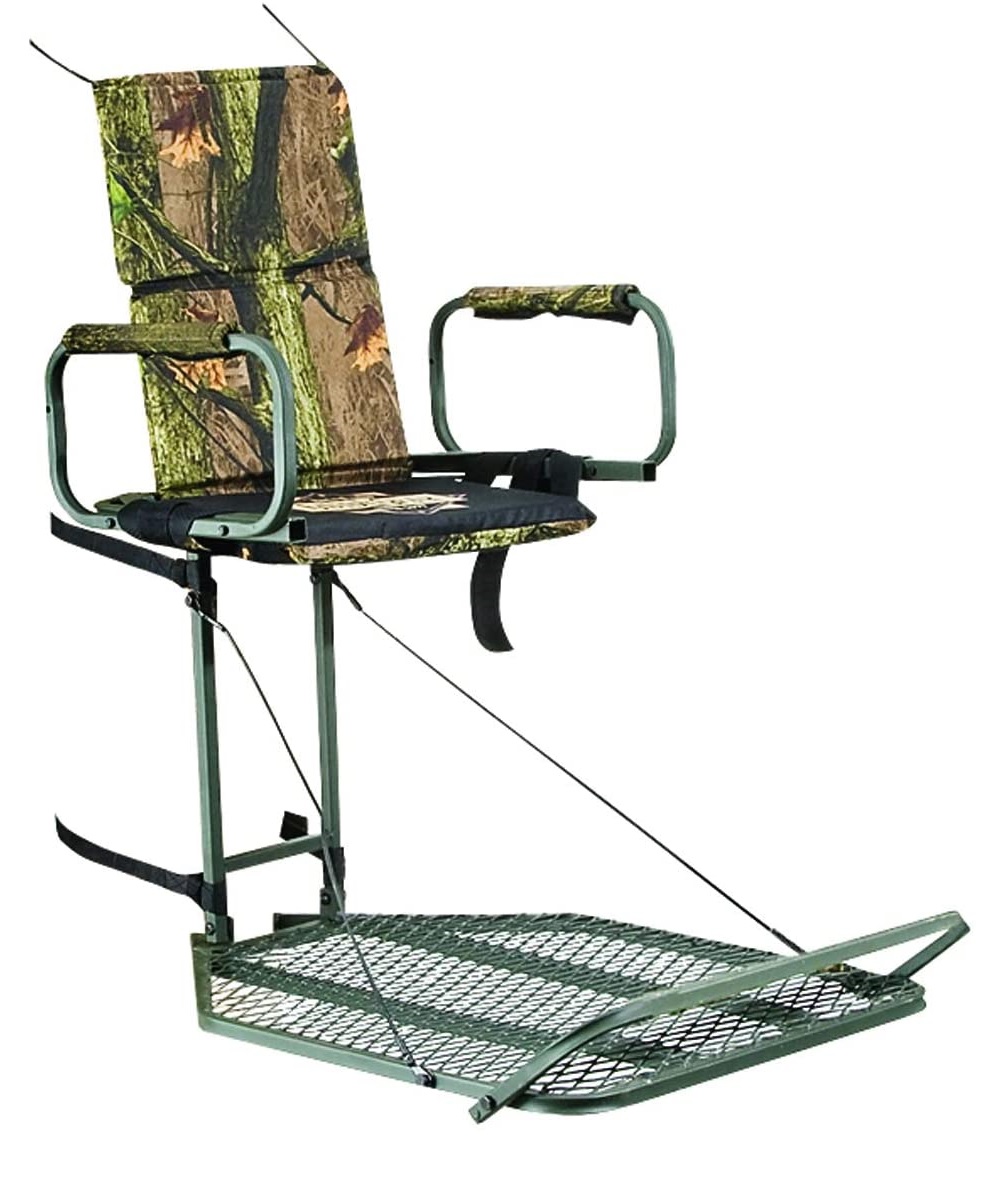 Climb up, stand up and be comfortable and confident in the Guide Gear Deluxe Hang-on Tree Stand. Its large foot platform provides enough room to stretch your legs, while the suspension-style seat keeps you secure from sunup to sundown. Sturdy steel construction means this treestand will last season after season. Plus, the Deluxe Hang-on Stand is super-easy to assemble and install – even for a first-timer.
24″ x 29.5″ mesh platform provides enough room to stretch your legs; 17″ x 10″ x 21″ suspension-style seat for all-day comfort; Padded armrests for comfort; 300-lb. weight capacity is sturdy enough for larger hunters; Powder coated to resist rust and corrosion; Includes 2 ratchet straps and FAS safety harness.
Flip-up seat and oversized platform
Weight: 33 lbs
Material: Steel
Platform Dimensions: 24″ x 29.5″
Seat Dimensions: 17″ x 10″
Seat Height: 21″
Weight Capacity: 300 lbs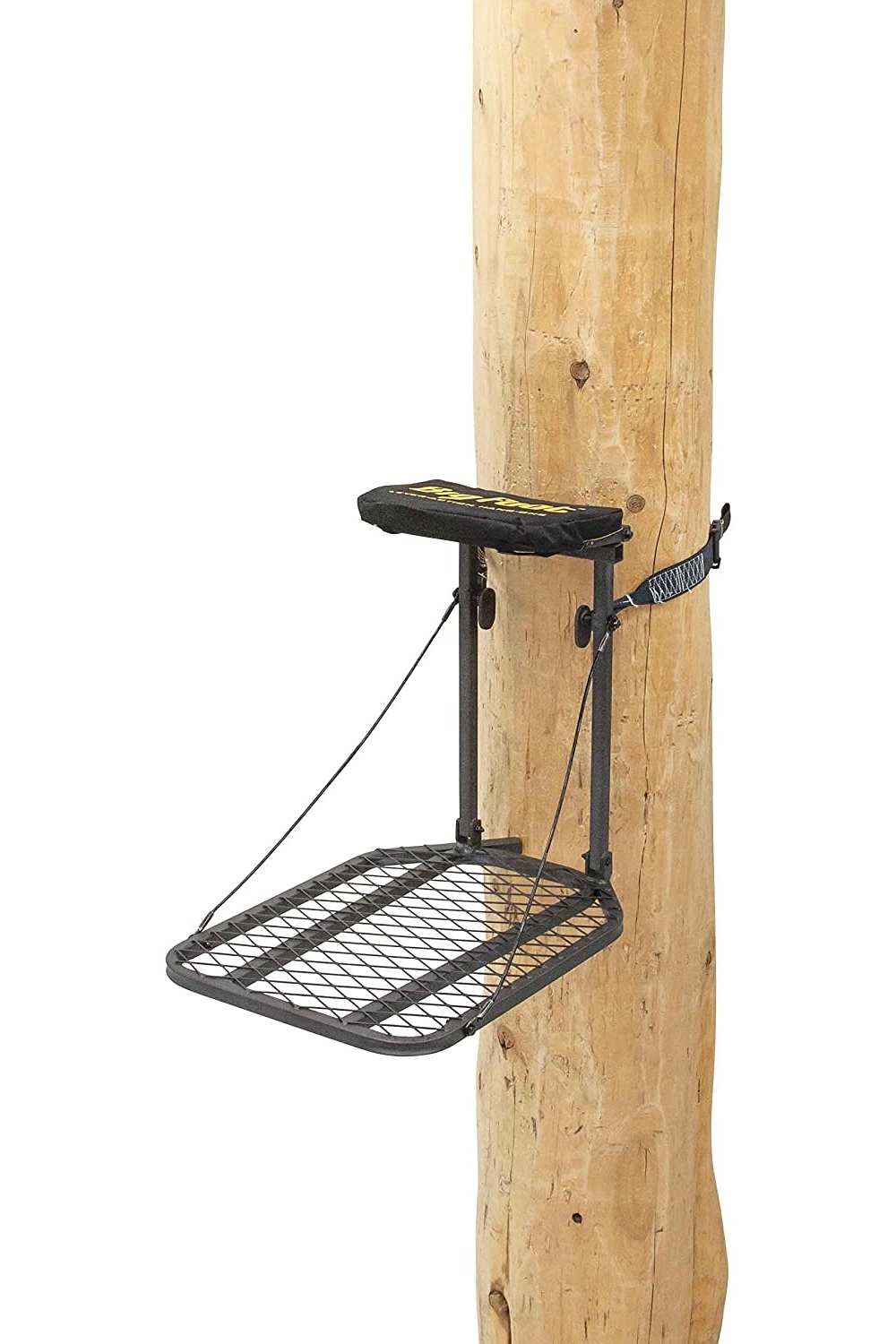 Compact Platform: At 27.5″ x 18″ the Big Foot Traveler offers ample room for standing shots.
Dual Post Flip-Up Seat: The dual post seat design widens cables and increases the use of the platform while a padded flip-up seat provides the flexibility to make seated or standing shots.
Ultra Quiet Attachment: With a noiseless strap attachment the Big Foot XL Classic Traveler has eliminated metal on metal contact and all of the noise that goes with it.
Lever-Action Stability: Big Foot Hang-Ons bite into the tree with an aggressive lever-action eliminating the need for a second strap.
Included Components: Tree stand, manual, safety harness and bolts

Folds flat for backpacking – straps not included.

Material type: Steel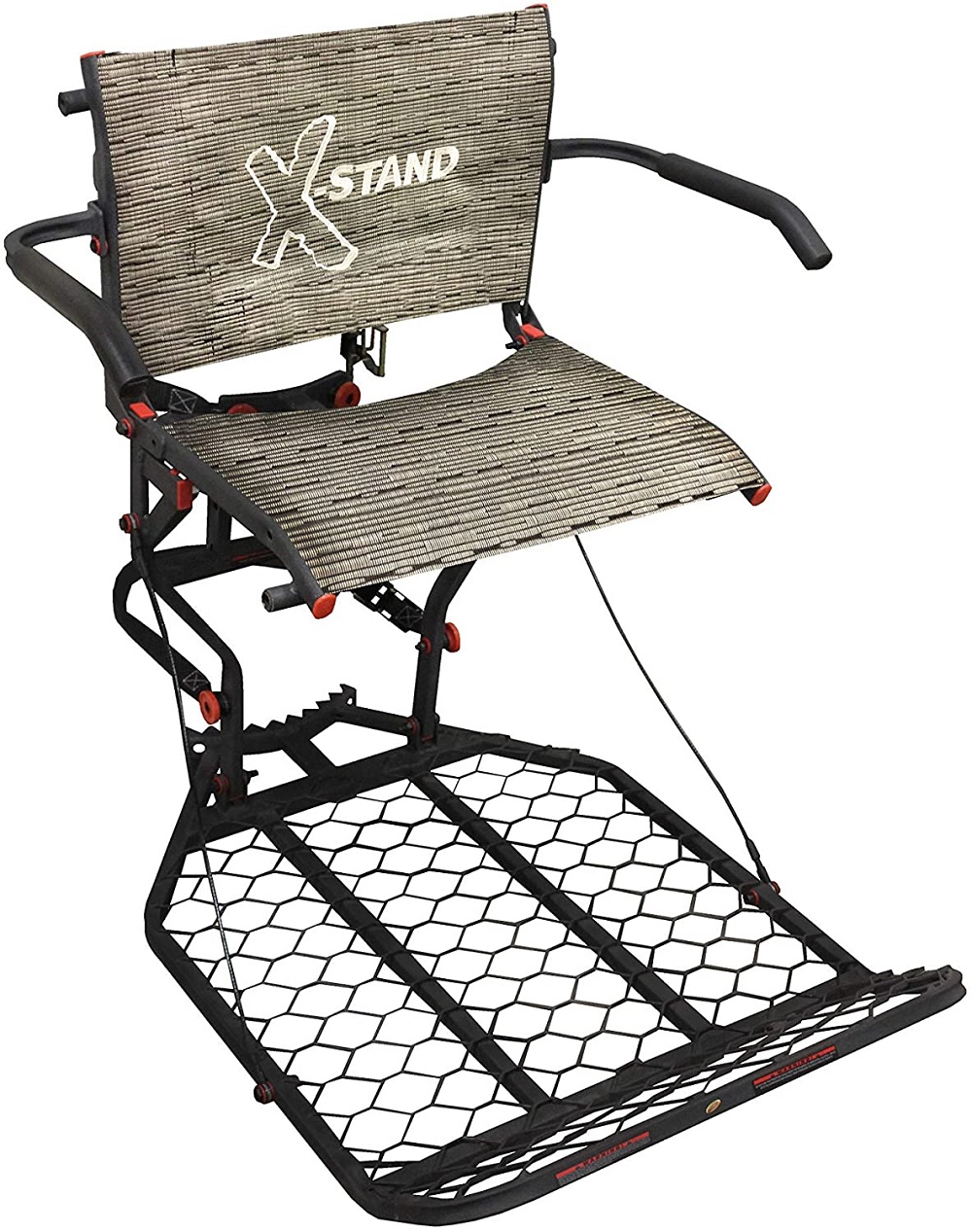 WEIGHT CAPACITY :

350 LBS STAND WEIGHT 25 LBS

CONSTRUCTION:

STEEL

PLATFORM SIZE :

24.5″ WIDE X 30″ DEEP

SEAT SIZE :

20″ WIDE X 14″ DEEP

COMFORTABLE HANG ON TREESTAND WITH BACKREST, PADDED ARMREST, AND FOOTREST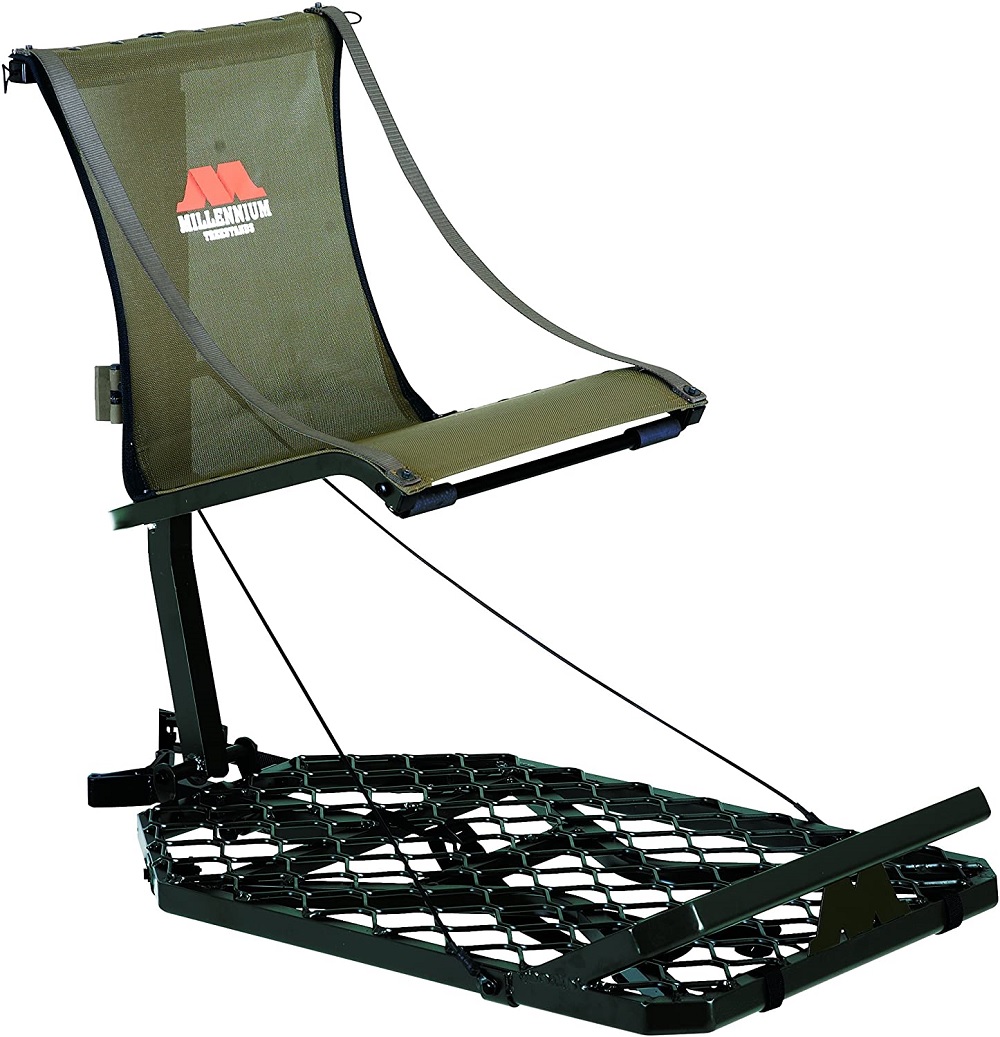 A MORE COMFORTABLE WAY TO HUNT: Bagging that deer sometimes require spending hours up in the trees. The M150 Monster Hang-On tree stand is designed with comfort in mind featuring a comfortMAX height adjustable seat with a full backrest.
SAFELINK: Millennium is committed to hunter safety, which is why we designed SafeLink, a 35-foot rope with a Prusik knot and carabiner. Designed to aid in safely ascending and descending from hang-on and ladder stands.
LARGE PLATFORM: Having the room necessary to position yourself properly for that shot is important. So we made sure the seat folds up out of the way allowing plenty of room. Whether you're hunting with a rifle or bow, you'll have plenty of space.
SMART CONSTRUCTION: The M150 is built from rugged aluminum and features a durable powder coat finish. It's designed to be easy and quiet to set up. It can even be adjusted for trees that lean up to 15 degrees which expands your site options
MEASUREMENTS: Built to hold up to 300-pounds. The platform measures 24-inches wide and 37-inches deep. Seat size is 24-inches wide and 20-inches deep. The seat is adjustable from 16-inches above the platform to 20-inches.
Whatever you find yourself hunting out of this fall, remember to wear a safety harness and always cherish each and every trip you take into the woods. You only get so many opening days!
Good luck, and shoot straight.