An enchanting and equally eerie blue hole has appeared on the ocean floor and scientists will soon explore the area which is hidden off the coast of Florida.
These blue holes are basically underwater sinkholes, but scientists are fascinated by them because their unique shapes and depths are ecological hotspots with high levels of biodiversity. The glowing blue hole scientists are currently flocking to off Florida's Gulf Coast is a 425-feet-deep hole dubbed "Green Banana" located roughly 155 feet below the water's surface, according to the National Oceanic and Atmospheric Administration.
In May and September 2019, a team of scientists from Mote Marine Laboratory, Florida Atlantic University/Harbor Branch, Georgia Institute of Technology and the U.S. Geological Society, with support from the NOAA Office of Ocean Exploration and Research, explored one blue hole, dubbed "Amberjack Hole," approximately 30 miles offshore west of Sarasota. The team documented life around the rim of the hole and carbon, nutrients, and microscopic life throughout the hole and in its bottom sediments.
NOAA scientists have already collected water and sediment samples from the surrounding area of Green Banana, and also found two dead but intact smalltooth sawfish – an endangered species – at the bottom of the hole, NOAA reports. Remains from one of the animals were successfully recovered for examination.
The 2019 work was the team's most detailed blue hole investigation to date, as they deployed divers and a "benthic lander"—a framework holding multiple scientific instruments collectively weighing more than 270 kilograms (600 pounds)—into Amberjack Hole, whose bottom extends deeper than 107 meters (350 feet).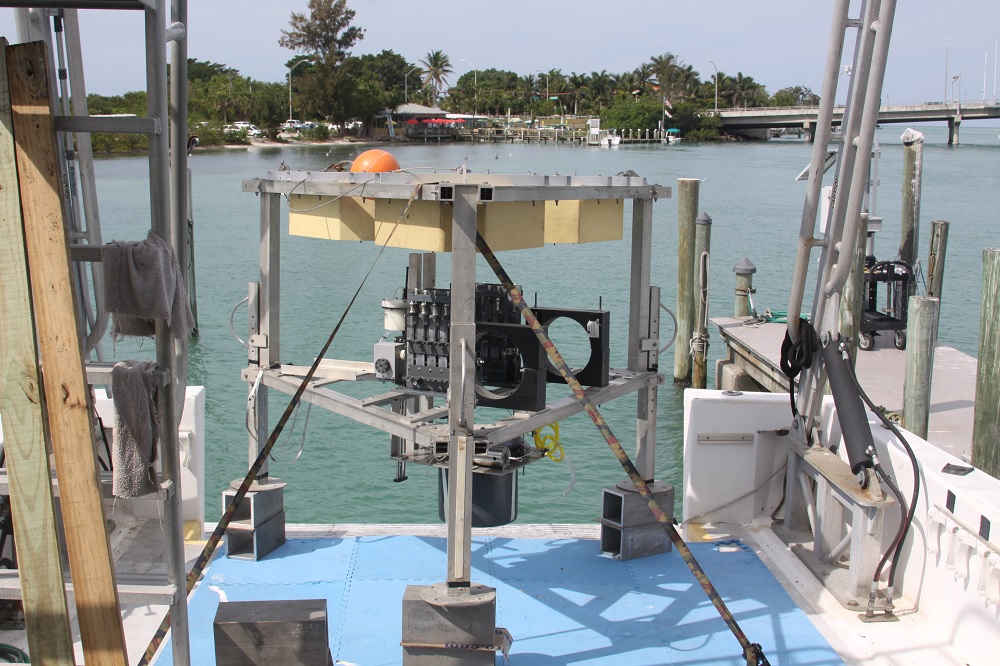 Green Banana will continue to be explored in August using the same techniques developed for the Amberjack Hole. The configuration of the hole is somewhat hourglass shaped, creating new challenges for the lander deployment and water sampling. The first trip is scheduled for August 2020, and work will continue in 2021.